Why is the Nevasic app so good for Motion Sickness
It's been through an 18 month Clinical Trial with Westminster College Of Medicine – the abstract report quotes "it provides significant protection".
DRUG FREE 
Non-invasive
Non-ingested
Leaves nothing with you
Portable
Nevasic was taken through an 18 month Clinical Trial with Travel Sickness sufferers.
---
The trial was independently commissioned
It was independently set up – including the protocol
It was independently managed for the duration
The published papers showing high levels of success were submitted to and published by the International Society of Travel Medicine
---
Who ran the independent clinical Trial?
The MRC Spatial Disorientation Group, Imperial College School of Medicine, London ran a full clinical trial with nevasic branded as TravelWell.
The trial proved conclusively that the programme is highly effective in combating the symptoms of nausea and vomiting associated with motion sickness.
The report from the trial is lodged with PubMed and available via the National Library of Medicine (USA).
Here is the abstract report:
1: J Travel Med. 2003 Mar-Apr,10(2):108-11 Behavioral methods of alleviating motion sickness: effectiveness of controlled breathing and a music audiotape. Yen Pik Sang FD, Billar JP, Golding JF, Gresty MA. The MRC Spatial Disorientation Group, Imperial College School of Medicine, London, United Kingdom.
BACKGROUND: Behavioral countermeasures for motion sickness would be advantageous because of the side effects of antiemetic drugs, but few alternatives treatments are available. The objective of this study was to compare the effectiveness of controlling breathing and listening to a music audiotape designed to reduce motion sickness symptoms, on increasing tolerance to motion sickness.
METHOD: Twenty-four healthy subjects were exposed to nauseogenic Coriolis stimulation on a rotating turntable under three conditions: whilst focusing on controlling breathing; listening to a music audiotape; or without intervention (control). The three conditions were performed by each subject according to a replicated factorial design at 1-week intervals at the same time of day. Ratings of motion sickness were obtained every 30 seconds. Once a level of mild nausea was reached subjects commenced controlling breathing or listened to the music audiotape. Motion was stopped after the onset of moderate nausea.
RESULTS: Mean (+/- SD) motion exposure time in minutes tolerated before the onset of moderate nausea was significantly longer (p <.01) for controlling breathing (10.7 +/- 5.6 min) and longer (p <.01) for music (10.4 +/- 5.6 min) compared with control (9.2 +/- 5.9 min).
CONCLUSIONS: Both controlling breathing and the music audiotape provided significant protection against motion sickness. They are easy to implement and free of side effects.
Publication Types: Clinical Trial Controlled Clinical Trial
PMID: 12650654 [PubMed – indexed for MEDLINE] Click the below line or copy and paste it to your address bar to view this information direct within the pages of PubMed (United States National Library Of Medicine: http://www.ncbi.nlm.nih.gov
The report was published by the International Society of Travel Medicine (http://www.istm.org/). To obtain the correct report quote "Journal of Travel Medicine Volume: 10 • Issue: 02 • 2003 • March • Page: 108"
The full published report can be supplied, just ask.
What is Nevasic?
This unique specialist audio programme contains specific tones, frequencies and pulses concealed by an over-layer of music. Many of the frequencies and pulses that desensitise the Vestibular system are bordering our recognizable audio spectrum, but still have a profound effect on the ear. In other words your ear is still picking them up but you may not recognise it – much the same as a dog whistle, your ear receives it but you don't register it.
Due to the nature of Nevasic there are no age limits, no language barriers and no geographical barriers to it's use.
A great thing about Nevasic is that it can be used at any time, in almost any place and because there is no need to lie down while using the programme you can use it while doing what you want to do !
Nevasic is Safe
Nevasic is 100% drug free, is not a hypnosis or relaxation product and does not contain subliminal messages.
Remember why Nevasic is so good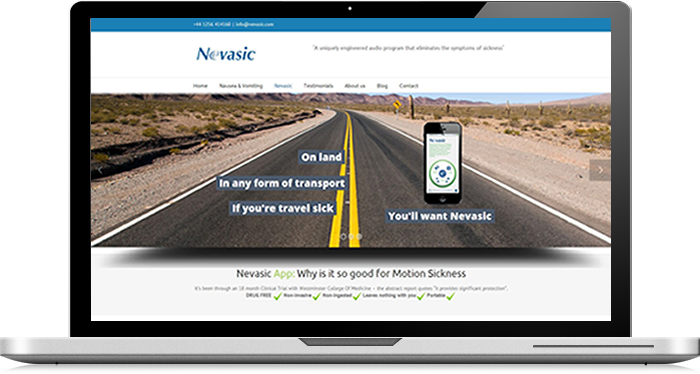 Not only is is proven by independent authorities it is so easy to use….
No Drugs

No side effects

No contra-indications

Non-invasive

No overdose risk

Easy to use

Portable

Buy it once – own it for life
Buy Nevasic now for your choice of platform!